---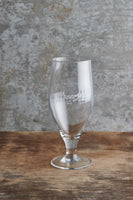 NL - 3 Fonteinen Beerselglas
Dit klassieke tulpvormige Beerselglas is gezeefdrukt met het vertrouwde Beerselbier logo. Net groot genoeg voor een smakelijke Beersel Lager of Beersel Blond met ne schone col.
hoogte: ca. 19,2 cm
inhoud: 500 ml
EN - 3 Fonteinen Beersel glass
This classical tulip glass of Beersel is screen-printed with the Beersel beer logo. The size of the glass is perfect for a perfect pour of Beersel Lager or Beersel blond, including a firm creamy head.
hoogte: ca. 19,2 cm (7.5 inches)
contents: 500 ml