---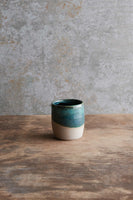 NL - 3 Fonteinen stenen koffiemok
Deze 3 Fonteinen koffiemok is exclusief ontworpen door en voor 3 Fonteinen en wordt op een authentieke manier gemaakt door pottenbakker Marnic De Lange van Pottenbakkerij Den Boelover in Overboelare, Geraardsbergen, België. Omdat we toch bezig waren met de kruiken – liefhebbers van goeie koffie die we zelf zijn – hebben we meteen ook deze reeks fijne koffiemokken laten bijmaken. Deze handgedraaide mok wordt voorzien van een specifiek 3 Fonteinen groen glazuur en van meerdere 3 Fonteinen zegels op de zij- en onderkant.
Elke mok is een uniek kunstwerk en kan variëren in kleurschakering en vorm t.o.v. de afgebeelde mok op de foto.
inhoud: 200 ml
beperkt beschikbaar
EN - 3 Fonteinen stoneware coffee mug
This 3 Fonteinen lambic mug is an exclusive design by and for 3 Fonteinen and is made in an authentic way by potter Marnic De Lange of Pottenbakkerij Den Boelover in Overboelare, Geraardsbergen, Belgium. Given the big coffee aficionados we are ourselves, it did not take long to decide to extend the stoneware range with this fine mug. This mug is crafted by hand and features a specific green 3 Fonteinen enamel glazing and different 3 Fonteinen seals at the side and on the bottom.
Each mug is a uniquely crafted piece of art and can vary in colour nuance or shape compared to the depicted one.
contents: 200 ml
limited availability