---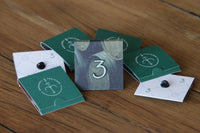 NL - 3 Fonteinen email pin "3"
Deze "3" pin is een stilistische weergave van ons tonnenmerk in krijt. Deze degelijke geëmailleerde pin met reliëf is een subtiele uiting voor de 3 Fonteinen liefhebber. Deze pin is een samenwerking met de Brusselse designer Vincent De Boeck van Pince Pins. Hoogwaardige afwerking, met een solide sluiting en verpakt in een mooie kartonnen houdertje.
afmetingen: 2,3 cm lang x 1,8 cm breed
EN - 3 Fonteinen enamel pin "3"
This "3" is a stylish expression of our chalk barrel mark. This durable enamel pin with relief is a subtle way to show you support for 3 Fonteinen. This pin came about in a co-op with Brussels-based designer Vincent De Boeck of Pince Pins. High-quality finishing with a solid clasp and packaged in a nice cardboard holder.
dimension: 0.9 inches tall x 0.7 inches wide