---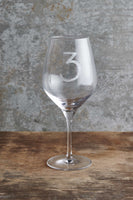 NL - 3 Fonteinen klassiek glas op voet (groot)
Dit klassieke 3 Fonteinen glas op voet wordt geproduceerd door Stölzle en is voorzien van het "3" logo, gezeefdrukt in drie lagen. Het "Fonteintjes" logo werd op de bodem van het glas gelaserd.
Dit glas is ideaal voor alle 3 Fonteinen lambikbieren, maar vooral voor fruitlambikken en lambikbieren met weinig pareling.
hoogte: ca. 23 cm
inhoud: 645 ml
EN - 3 Fonteinen classical stemmed glass (large)
This classical 3 Fonteinen stemmed glass is produced by Stölzle and has a three-layered print-screened "3" logo. The "Fountains" logo is lasered on the bottom of the glass.
This glass is ideal for all 3 Fonteinen lambic beers, but more specifically deigned for fruited lambics and lambics with lower-than-average carbonation.
height: approx. 23 cm (9.1 inches)
contents: 645 ml