---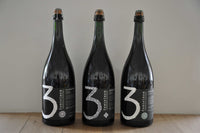 Only 2 packs per order allowed!

Pakketinhoud | Pack content
NL - Het Magnum pakket II
Dit pack bevat drie magnum-flessen verfijnde lambikbieren.
Voor de Zenne y Frontera blend 74 rijpten we lambik voor meer dan een jaar op een Oloroso-sherry vat, waarna we jonge lambik toevoegden om een verdere fermentatie in de fles in gang te zetten, en dus een sherry-geuze te creëren. 75% van de gebruikte lambikken was twee jaar oud, wat de gemiddelde leeftijd op 31 maanden brengt.Na botteling rijpte de fles nog meer dan een jaar verder bij ons. Van deze blend bottelden we slechts 646 flessen af.
Daarnaast bevat het pack een Platinum Blend op magnumfles. Hiervoor selecteerden we vijf verschillende vaten waarop zes verschillende brouwsels rijpten. De vier jaar oude lambik werd begin 2018 door ons gebrouwen. 40% van de gebruikte granen kwam van ons eigen Granennetwerk en ook 40% van de gebruikte hoppen is afkomstig uit België. Na botteling rijpte de fles nog meer dan een jaar verder bij ons. Er werden in totaal 659 flessen gebotteld.
Tot slot bevat het pack een magnum Oude Geuze, waarvoor we drie verschillende vaten selecteerden waar vijf verschillende brouwsels op rijpten. Het is een blend van één jaar en vier jaar oude lambikken, waarvan ca. de helft door ons zelf gebrouwen werd. Meer dan drievierde van onze lambikken werd gebrouwen met granen uit ons Granennetwerk. 655 flessen werden gebotteld.
Dankzij onze grote, schone bibliotheek van (uitsluitend) flessen kunnen we steeds putten uit een uitgebreide selectie van telkens unieke lambikassemblages. Daarom lanceren we, enkel via onze webshop, graag al eens nieuwe pakketten met zowel geliefde klassiekers als meer beperkte flessen.
EN - The Magnum pack II
This pack contains three magnum bottles of refined lambik beers.
For the Zenne y Frontera blend 74, we aged lambik for more than a year on an Oloroso-sherry cask, after which we added young lambik to initiate further fermentation in the bottle, thus creating a sherry-geuze. 75% of the lambikken used were two years old, which brings the average age to 31 months. After bottling, the bottle matured for more than a year with us. We bottled only 646 bottles of this blend.
The pack contains a Platinum Blend magnum bottle as well. For this we selected five different barrels on which six different brews matured. The four-year-old lambik was brewed by us at the beginning of 2018. 40% of the grains used came from our own grain network and 40% of the hops used also come from Belgium. After bottling, the bottle matured for more than a year with us. A total of 659 bottles were bottled.
Finally, the pack contains a magnum Oude Geuze, for which we selected three different barrels on which five different brews matured. It is a blend of one-year and four-year-old lambikken, about half of which we brewed ourselves. More than three quarters of our lambikken were brewed with grains from our Cereal Collective. 655 bottles were bottled.
Thanks to our large beautiful bottle(-only) library, we can always select unique lambic blends from a vast selection. That is why, now and then, we release, only through our webshop, new packs with both beloved classics as well as more limited bottles.